Solid State Relay WD60D30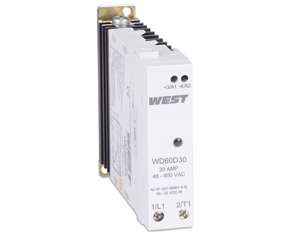 WD60D30
Compact single phase solid state relays with 22.5 mm width for reduced panel footprint.
Available in models up to 30A, WD60D30 has an integral heatsink and can be direct or DIN rail mounted.
The West range of SSR's are a compatible with solid state relay outputs of the West Control Solutions controller range, simplifying selection of a suitable product.
10, 20, 30 and 45 Amps output rating
24 to 280V and 48 to 600 VAC load voltage ratings
4 to 32 VDC control voltage
DIN-rail or panel mounting
Epoxy-free design
IP20 touch-safe housing
CE and UL / cUL
RoHS compliant
Product Category:
Solid State Relay

Operating Voltage (47-440Hz) [Vrms]:




48-600




Transient Overvoltage [Vpk, t = 1 min.]:



1100


Maximum Load Current [Arms]:



30

Minimum Load Current [mArms]

:



100


Min/Max stranded wire:




16/8 AWG




Min/Max solid wire

:



16/10 AWG


Input Voltage Range:




4-32 VDC                                                                                                                                                      




Minimum Turn-On Voltage:



4.0 VDC


Drop out Voltage:




1.0 VDC




Ambient Operating Temperature Range:



-20 to 80°C


Ambient Storage Temperature Range:




-40 to 100°C



Copyright © 2017 West Control Solutions