Solid State Relay WP66D10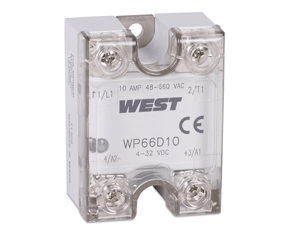 WP66D10
Economy range of hockey puck style single phase solid state relays.
Available in sizes up to 75A the WP66D10 unit can be mounted directly to a control panel.
The West range of SSR's are a compatible with solid state relay outputs of the West Control Solutions controller range, simplifying selection of a suitable product.
10, 25, 50 and 75A output rating
48 to 660 VAC load voltage rating
4 to 32 VDC control voltage
Panel mounting
High thermal performance
CE and UL / cUL
RoSH compliant
Product Category:
Solid State Relay

Operating Voltage (47-440Hz) [Vrms]:



48-660

Transient Overvoltage [Vpk, t = 1 min.]:



1200

Maximum Load Current [Arms]:



10 A

Minimum Load Current [mArms]

:



50

Input Voltage Range:




4-32 VDC                                                                                                                                                        




Minimum Turn-On Voltage:



4.0 VDC

Drop out Voltage:



1.0 VDC

Ambient Operating Temperature Range:



-20 TO 80 °C


Ambient Storage Temperature Range:




-40 TO 100°C



Copyright © 2017 West Control Solutions