6010+ Digital Indicator | Temp Control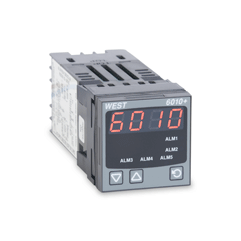 6010+
The 6010+ is a digital panel process indicator with a high contrast, high visibility display. The indicator is designed for optimal ease of use in a wide variety of temperature and related process applications. 
The 6010+ provides a jumperless configuration, plug in output boards and an efficient PC configurator for quick and simple setup.  In addition, plug-in modules allow PV retransmission or transmitter power supply and up to 4 alarm relays (latching or non-latching).
The instrument provides a fixed red or green single-line 4-digit display.
Up to 4 outputs 
Plug-in Output Modules for SSR driver, Triac, Relay and linear outputs – easily field changeable
Self-recognition of option boards – promotes simple, error free set-up
Optional alarms relays are selectable as latching or non-latching.
PC Configurator with easy to use "wizard" suits both novice and experienced users
Jumperless configuration 
Modbus and ASCII Communications
10V SSR driver output allows drive of up to 3 typical SSR/SCR inputs
Multi-point Scaling and Tare features included as standard
Product Category:
Process Indicator
Dimensions (Size and Format):
48 x 48 x 110mm (HxWxD), 1/16 DIN Cutout
Primary Input Type:
Universal (TC, RTD, DC Linear mA/mV)
Other Inputs:
1 Digital
Output Type: 
Relay, DC linear, SSd, Triac, 24V transmitter power supply
Max. No. of Outputs:
4
Power Supply:

100 to 240 AC 50/60Hz

20-48 V AC 50/60Hz

22-65 V DC

Communications:
RS-485 serial (MODBUS© protocol)
Certifications:
UR, cUR, CE, CSA
Panel Sealing: 
IP66
Software:
Plus Series Configurator
Copyright © 2021 West Control Solutions