DataVU 7 Recorder & Data Acquisition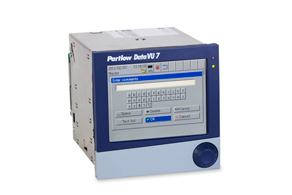 DataVU 7
DataVU 7 provides advanced flexibility to meet a user's specific requirements without the need to change a process to fit the recorder. If process requirements are subject to change at a later date then the user benefits from the ease with which modifications can be made to the recorder configuration.
The recorder is fully scalable – cards can be added to the recorder, facilitating future expansion.
Reporting can be tailored to provide the exact information needed. The DataVU 7 allows reports to be created for daily, weekly, monthly and yearly periods. Furthermore if particular data needs to be evaluated then reports can be created using a custom date range to provide maximum flexibility.
Enhanced security through password protections, instrument can only be configured by authorized operating personnel.
Fully scalable so additional option cards can be added to the recorder at a later date facilitating future expansion.
PC Evaluation software provides option to run reports on data for a specific period (daily, weekly, monthly, annually and custom).
Data can be annotated with Individual comments via the recorder relating to process events.
Practical control knob designed so a user can configure the recorder on the spot even while wearing protective gloves.
Able to withstand humid conditions and meets standards for IP65 ingress protection.
Easy to clean, even with aggressive media.
DataVU 7 is a robust and durable recorder that is ideally suited to challenging and harsh environments.
Product Category:
Recorders and Data Acquisition
Recorder Type:
Paperless
Dimensions and size:
144mm x 144mm x 200mm (HxWxD)
Number of Internal Analog Channels:
18
Number of External Analog Channels:
24
Number of Digital Inputs:
24
Number of Relay Outputs:
7
Power Supply:

100 - 240V AC +10/-15%, 48 - 63Hz

20 - 30V AC/DC, 48 - 63Hz

Communications:
RS232/485 MODBUS, Ethernet, RS 232 Barcode Reader, USB, PROFIBUS DP (option)
HMI:

Rotary knob, Touch pad screen (option)

5" TFT colour screen - 144mm x 144mm / 320 x 240 pixel screen

Certifications:
Other Functions:

Counters/integrators (27 channels)

Maths (18 channels)

Batch reports (3)

Web Server (option)

Software Tools:
Set Up, Data Evaluation, Communication
Software Tools: Set Up, Evaluation, Communication
Setup-Software for DataVU7
Copyright © 2021 West Control Solutions