Humidity Transmitter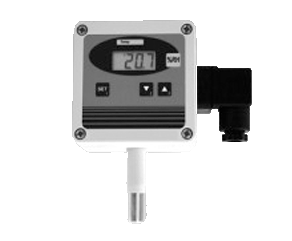 Humidity Transmitter
Transmitter for Humidity - Two wire technology
The used two-wire technology features easy installation because supply and signal are united and running via the same pair of wires. Combined humidity and temperature measurement with a second sensing element (-Pt1000-) provide not only for storage and air conditioning special features by simplified mounting and wiring.
Local digital display features easy reading as also scaling of span. An internal lock prevents unauthorized access.
Applications
Monitoring and control of humidity in warehouses, air conditioning systems and industrial processes
Main attributes
Accurate
Rugged
Fast
Version for high humidity
Measurement of humidity
Local display
Temperature and humidity also combined
Wall- as duct mounting
Memorising of Min- Max Value
Electrical connection via plug
Copyright © 2021 West Control Solutions