KS 40-1 Burner Single Loop Controller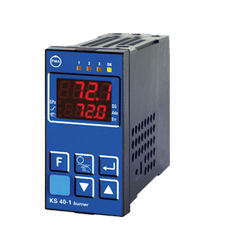 KS 40-1 Burner
The universal temperature controller KS 40-1 burner is intended for universal, precise, and cost-effective control tasks of modulating, two- and three-stage burners. It can be switched between the simple on/off control of 2-stage burners and motorised control for modulating burners during operation. Thus different fuels are optimally applicable.
The process value signal is connected via a universal input allowing thermocouples and Pt100 to be used for temperature control. 2-wire, 3-wire or 50/30/50 pressure transmitters can be used for boiler pressure control. An additional input is available which can be used for external setpoint or weather-compensation.
BluePort® interface and BlueControl® software
Modulating, two or three stage regulation
Automatic/manual and function key
External setpoint and external correction
Typetested to  EN 14597 
100 ms cycle time, i.e. also suitable for fast control loops
Customer-specific linearization for all sensors
Settings can be blocked via password and internal switch for high security 
Extended temperature range up to 60 °C allows mounting close to the process
Easy 2-point or offset measurement correction
Logical combination of digital outputs, e.g. for general alarm
Built-in transmitter power supply
Splash-water proof front (IP 65)
Product Category:
Single Loop Controller
Dimensions and size:
96m x 48mm x 118mm (HxWxD), 1/8 DIN
Connectors:
Pin or screw terminals
Primary Input Type:
Thermocouple, Resistance thermometer, Current, Voltage
Other Inputs:
External setpoint
Output Type:
3 Relays
Max. Number of Outputs:
3
Scan Time:
100 ms
Control Type:
ON/OFF, PID, Dual PID, 3-Point Stepping
Number of Programmer Segments:
4
Power Supply:
90-260 VAC, 20,4-26,4 VAC: Frequency 48-62 Hz,
18-31 V DC
Communications:
Panel Sealing:
IP65
Certifications:
CE, Tested to EN14597 (replaces DIN 3440), cULus
Software Tools:
BlueControl
The KS 40-1 Burner controller works in conjunction with Blue Control software. Functionality includes:
Fast Parameter Configuration
Clone Other Devices
Simulator for Process Testing
Remote Management for Increased Efficiency
Familiar Software Environment for Ease-of-Use
Please visit our software  page to download BlueControl®.
Copyright © 2021 West Control Solutions