KS 40-1 Single Loop Temperature Controller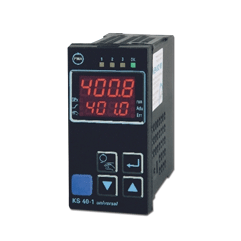 KS 40-1
The universal temperature controller KS 40-1 is intended for universal, precise, and cost-effective control tasks in all branches of industry. For this, the unit provides simple 2-point (on/off) control, continuous PID control, or 3-point stepping control. The process value signal is connected via a universal input. A supplementary analog input can be used for heating current measurement or as an external setpoint input.
The KS 40-1 has three process outputs that can be 3 relays or 2 relays plus a universal output. This universal output can be used for operating a solid-state relay, a continuous current/voltage output or to energize a two-wire transmitter.
This controller is particularly well suited to the following industry applications:
Furnaces and ovens
Burners and boilers
Plastics processing
Driers
BluePort® Front interface and BlueControl Software
Maintenance manager and error list
Automatic/Manual key
Monitoring of heating current and input circuit
Timer and programmer
Extended limit signalling function with latch
Type tested to EN 14597 (replaces DIN 3440), cULus
Product Category:
Single Loop Controller
Dimensions and size:
96mm x 48mm x 118mm (HxWxD), 1/8 DIN
Connectors:
Pin or screw terminals
Primary Input Type:
Universal (TC, RTD, DC linear mA/mV)
Other Inputs:
External setpoint, Heating current monitoring
Output Type:
Relay, Logic, Linear mA/VDC
Max. Number of Outputs:
3
Scan Time:
100 ms
Control Type:
2-point (on/off), continuous PID control, or 3-point stepping
Number of Programmer Segments:
4
Power Supply:
90-260 VAC, 20,4-26,4 VAC: Frequency 48-62 Hz,
18-31 V DC
Communications:
Modbus RS422/485
Panel Sealing:
IP65
Certifications:
CE, cULus
Software Tools:
BlueControl
The KS 40-1 controller works in conjunction with Blue Control software. Functionality includes:
Fast Parameter Configuration
Clone Other Devices
Simulator for Process Testing
Remote Management for Increased Efficiency
Familiar Software Environment for Ease-of-Use
Please visit our software  page to download BlueControl®.
Copyright © 2021 West Control Solutions