KS 50 -1 Single Loop Temperature Controller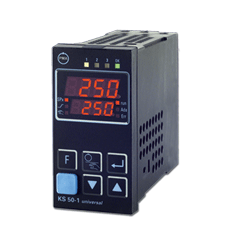 KS 50-1
The universal KS 50-1 temperature controller is intended for precise and cost-effective control tasks. The instrument provides simple 2-point (on/off) control, continuous PID control or 3-point stepping control. The process value signal is connected via a universal input. A supplementary analog input can be used for heating current measurement or as an external set-point input.
The KS 50-1 has three process outputs that can be 3 relays or 2 relays plus a universal output. This universal output can be used for operating a solid-state relay, a continuous current/voltage output or to energize a two-wire transmitter. Optionally there are two additional optocoupler outputs that can be used freely.
The controller is suitable for a number of industry applications including:
Furnaces and ovens
Burners and boilers
Plastics processing
Hot runners
Driers
Climatic chambers
Heat treatment plants
Universal continuous/switching version - for reduced stock
100 ms cycle time - suitable for fast control loops
20ms as shortest pulse - for very fast / strong actuators 
Freely configurable analog output, e.g. as process value output
Customer-specific linearisation for all sensors
Settings can be blocked via password and internal switch for high security
Extended temperature range up to 60°C - allows mounting close to the process
Easy 2-point or offset measurement correction
Emergency operation after sensor break by means of the "output hold" function
Logical combination of digital outputs, e.g. for general alarm
Programmer with 10 segments and "end" signal
RS 422/485 Modbus RTU interface
Built-in transmitter power supply
Two switchable parameter sets
Self-Tune to setpoint without oscillation
3-point controller for water, fan or oil cooling
Start-up circuit boost functions
Product Category:
Single Loop Controller
Dimensions and size:
96m x 48mm x 118mm (HxWxD), 1/8 DIN
Connectors:
Pin or screw terminals
Primary Input Type:
Universal (TC, RTD, DC linear mA/mV)
Other Inputs:
External setpoint, Heating current monitoring
Output Type:
Relay, Logic, Continuous, Optocoupler
Max. Number of Outputs:
3
Scan Time:
100 ms
Control Type:
2-point (on/off), continuous PID control, or 3-point stepping
Number of Programmer Segments:
10
Power Supply:
90-260 VAC, 20,4-26,4 VAC: Frequency 48-62 Hz,
18-31 V DC
Communications:
Modbus RS422/485
Panel Sealing:
IP65
Certifications:
CE, cULus, DIN EN 14597, GOST-R
Software Tools:
BlueControl
| | | | |
| --- | --- | --- | --- |
| Brochure | Datasheet | Manual (Full) | Interface description |
| | | | |
| Bedienhinweis | | | |
| | | | |
KS 50-1 Tcont - Temperature controller for tempering units and hot runners
| | |
| --- | --- |
| Datasheet | Operation notes |
| | |
The KS 50-1 controller works in conjunction with Blue Control software. Functionality includes:
Fast Parameter Configuration
Clone Other Devices
Simulator for Process Testing
Remote Management for Increased Efficiency
Familiar Software Environment for Ease-of-Use
Please visit our software  page to download BlueControl®.
Copyright © 2021 West Control Solutions