KS 98-2 Multi-function Controller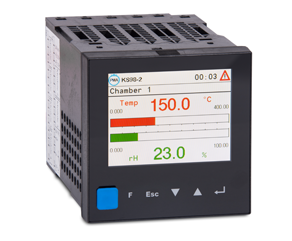 KS 98-2
The KS 98-2 multi-function unit provides advanced functionality to its users. It benefits from having a fully modular I/O structure allowing to compile the number of analog and digital inputs and outputs exactly to the needs.
The KS 98-2 offers a TFT Colour Display (320 x 240 pixels) with Touch. Individual plain text lines can be displayed with the current function states. Setpoint, actual values or manipulated variables can be visualised in either bar graphs or trend curves.
The instrument is freely programmable based on an extensive function library to support the engineering of individual solutions from analog signal conditioning to digital signal operations and cascade control systems to complex meshed control loops.
Modular automation system in a 1/4-DIN (96 x 96mm) format
Measure, control, calculate, and record
Process visualisation, operation, alarm and alerts
Comprehensive application-oriented functionality
Graphical programming utility with simulator
3.5 " colour touch-screen display
USB interface on front fascia
Expandable with modular inputs and outputs
Ethernet and common fieldbuses
Product Category:
Multi-loop Controller
Dimensions and size:
96m x 96mm x 118mm (HxWxD), 1/4 DIN
Connectors:
Screw terminals 
Primary Input Type:
Universal (TC, RTD, DC linear mA/mV)
Other Inputs:
External setpoint, Ratio input, Potentiometer input, Three component input, Mathmatical functions
Output Type:
Measured valve output
Max. Number of Outputs:
11
Scan Time:
100 ms
Number of Programmer Segments:
> 1000
Control Type:
Fully programable. Includes 2-point (on/off), continuous PID control, or 3-point stepping, cascade, ratio etc
Power Supply:

100…240V AC (+10%-15%), 48…62 Hz

24V DC (+25%-20%)

Communications:
Ethernet, USB, CAN, RS485, PROFIBUS DP, PROFINET
Panel Sealing:
IP65
Certifications:
CE, cULus, DIN EN 14597
Software Tools:

Engineering Tool ET/KS 98-2

Simulation SIM/KS 98-2
Please visit our software page to download the KS 98-2 software.
Copyright © 2021 West Control Solutions