MLC 9000+ Multi-loop Temp Controller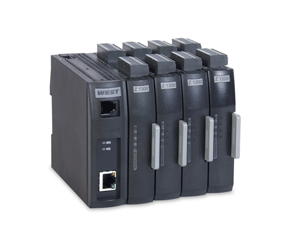 MLC 9000+
This product is now obsolete. Our recommended alternative is the KSVario system or contact our Support Team who can help you choose the right alternative to migrate your current MLC 9000+ application. 
The MLC 9000+ maximises up-time by offering a true hot-swap facility. A module can be removed, replaced, automatically re-configured and back in service in under 30 seconds. Unlike some systems, with the MLC9000+ there is no need to touch the remaining control modules - allowing them to continue functioning when any of the other modules are removed.
Communication module options currently include Modbus, DeviceNet, Profibus and Modbus/TCP. Control modules are available with 1, 3 and 4 loops. Heater break inputs are available on 1 and 3 loop modules.
The MLC 9000+ system provides a compact multi loop DIN-rail process control system. Even using a full complement of 8 control modules, providing up to 32 loops, the MLC9000+ still only measures 206mm wide making it the ideal choice when panel space is a concern.
Quicker to setpoint and faster reaction to process disturbances
On-demand and auto-tuning – no need to manually tune loops
Set-up 32 loops in less than 30 minutes
Only buy the loops required – no need to buy in multiples of four
Free up PLC capacity by 'outsourcing' loop control to the MLC 9000+
Product Category:
Multi-loop controller
Dimensions and size:

Bus Module:   100mm x 30mm x 120mm (HxWxD)

Loop Module: 100mm x 22mm x 120 mm (HxWxD)

Primary Input Type:
Universal (TC, RTD, DC linear V, DC linear mA/mV)
Other Inputs:
Heater Break
Output Type:
Relay, SSd, DC linear
Max. Number of Outputs:
48 max per system
Max. Number of Loops:
up to 32 per system
Control Type:
PID, ON/OFF, Manual, Alarm, Multi-loop, Soft start
Power Supply:
18-30V DC
Communications:
Modbus RTU, Modbus TCP, Profibus, DeviceNet
Panel Sealing:
IP20
Certifications:
UL, CE
Software Tools:

MLC 9000+ Workshop Software

PROFIBUS Approved GSD File
Copyright © 2021 West Control Solutions