N2300 Single Loop Temperature Controller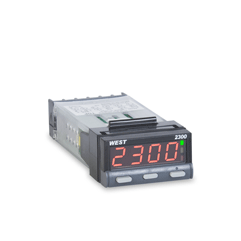 N2300
The West N2300 offers real flexibility as it can be used as a controller or an indicator.
The instrument has the largest red or green digital display in a 1/32 DIN package. In addition to the red or green display the N2300 benefits from three additional multi-colour LEDs to indicate process, alarm and configuration statuses.
The large, tactile rubberized keys provide a more practical human interface which is complemented with a specially developed hands-free PID tuning algorithm, Easy-Tune, which continuously monitors and improves control. Alternatively the instrument can be manually fine-tuned for a specific application. The N2300 indicator has up to to two outputs (relay or solid state driver) for alarm. The controller version can have an additonal relay or RS232 serial communications.
Simple straight forward operation for easy setup
Largest 4 digit red/green digital display in a 1/32 DIN package
PID control for (auto-tuning) hands-free operation with manual override tune capability for specialized applications
Solid state relay SSR for primary control and alarming
Optional second alarm relay (option) or RS-485 communication
Product Category:
Single Loop controller
Dimensions and size:
25mm x 49mm x 100mm (HxWxD), 1/32 DIN Cut out
Primary Input Type:
Thermocouple (J, T, K, N, B, R, S), PT100 3-wire, DC linear mA/mVdc (volts DC not supported)
Other Inputs:
None
Output Type:

Relay, SSR Driver (SSd)

Max. Number of Outputs:
3
Control Type:
PID, ON/OFF, Alarm
Power Supply:

90 to 264V AC 50/60Hz

12-24V AC 50/60Hz

12-30V DC

Communications:
RS485 Serial (Modbus® protocol)
Panel Sealing:
IP65
Certifications:
CE, cULus
Copyright © 2021 West Control Solutions