N8080 Indicator | Temperature Control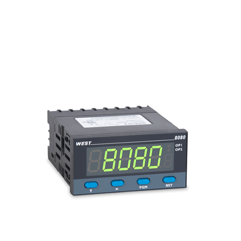 N8080
The West N8080 temperature indicator offers highly accurate process monitoring and unparalleled display quality.
It features custom-designed LED 5 digit display which offers larger, clearer numbers than other instruments of the same size. There is a choice of color for the display and this can be set up to change (green to red) to indicate alarm status.
With either temperature or process inputs available and a choice of alarm and retransmission outputs, the N8080 can serve most process indication requirements.
Large 5 digit display 
Security lock
Color change on alarm
Process transmitter PSU
Min/max value hold
PV retransmit option
2 process alarms
RS485 comms option
Product Category:
Process Indicator
Dimensions and size:
48mm x 96mm x 110mm (HxWxD), 1/8 DIN
Primary Input Type:
Thermocouple, PT100 or DC Process (mA/mV/V)
Other Inputs:
Digital input for Tare function
Output Type:
Std. 24VDCTransmitter Power Supply; Relay, NPN open collector, DC linear
Max. Number of Outputs:
3
Power Supply:

100–240V AC 50–60Hz

20/50V AC 50/60Hz

22-55V DC

Communications:
RS485 Serial (ASCII protocol)
Panel Sealing:
IP65
Certifications:
UR, cUR, CE
Brochure
Datasheet
Manual (Full)
Manual (Full)

Manual (Temperature Indicator)

Manual (DC Process Indicator)

Manual (Temperature Indicator Concise)
Manual (

DC Process Indicator 

Concise

)
Copyright © 2021 West Control Solutions