Pro-8 Single Loop Controller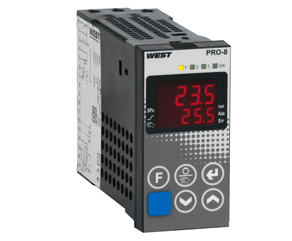 Pro-8
A fully featured controller for demanding applications.
Meeting challenging application requirements through a high level of I/O, advanced control capability and offering the best-in-class configuration software, BlueControl©.
The Pro-8 offers many integrated features for unrivalled performance such as two PID sets to ensure reliable control over a wide setpoint range and separate PID for heat and cool strategies for optimized control and stability. The Pro-8 controller includes soft start and heater boost functionality.
Extensive flexibility is offered with 1 universal inputs and 1 optional, up to 3 digital inputs, 6 outputs and an inbuilt profiler with 10 segments. 
Up to 10 segments
BluePort® Front interface and BlueControl software
Maintenance manager and error list
One universal input and one optional input
2 PID set manually selectable
Self-Tuning at start-up and setpoint
RS 422/485 Modbus RTU interface
Built-in transmitter power supply
Product Category:
Single Loop Controller
Dimensions and size:
96m x 48mm x 118mm (HxWxD), 1/8 DIN
Connectors:
Pin or screw terminals
Primary Input Type:
Universal (TC, RTD, DC linear mA/mV)
Other Inputs:

External remote setpoint, Potentiometer or Heating current monitoring



Output Type:
Relay, Logic/SSR Driver, DC Linear mA/VDC

Max. Number of Outputs:
5
Scan Time:
100 ms
Control Type:
2-point (on/off), continuous PID control, or 3-point stepping
Number of Programmer Segments:
10

Power Supply:
90-260 VAC, 20,4-26,4 VAC: Frequency 48-62 Hz,
18-31 V DC
Communications:
Modbus RS422/485, RTU Interface, MODBUS Master Configuration

Panel Sealing:
IP65
Certifications:
CE, cULus, DIN EN 14597
Software Tools:
BlueControl
The Pro-8 controller works in conjunction with Blue Control software. Functionality includes:
Fast Parameter Configuration
Clone Other Devices
Simulator for Process Testing
Remote Management for Increased Efficiency
Familiar Software Environment for Ease-of-Use
Please visit our software page to download BlueControl®.
Copyright © 2021 West Control Solutions