Obsolete ProVU 4 Single Loop Temperature Controller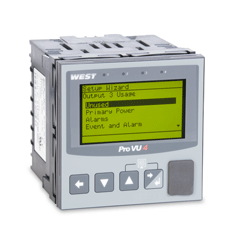 ProVU 4
ProVU with a graphic/text LCD display is an affordable temperature and process controller with advanced functionality including profiling and data logging options.  
Designed to improve user efficiency many features are integrated to reduce commissioning time, simplify operation and minimise maintenance downtime. 
The versatile display options, USB port, data logging and profiling functions are a unique combination in a ¼ DIN controller. The controller provides a quick and easy set-up which includes a step by step configuration wizard which starts automatically on the first start up.   
Due to the increasing requirement to log process data for quality control purposes, the optional data logging feature from ProVU provides a low cost method of recording historical data for exporting to a .CSV file.
Single loop control
Graphical / text LCD Display with color change LED backlight on alarm (red/green)
255 segment profiler to allocate in up to 64 programs
USB port for access to configuration and log files
Graphical trend view of process, alarms & events as standard
Multi language options (English, French, German, Italian, Spanish)
Optionally log process values, setpoints and alarms to .csv file for use with spreadsheets
Modbus RS485 and Modbus TCP Ethernet supported
BlueControl configuration and commissioning software
Product Category:
Single Loop Controller
Dimensions and size:
96mm x 96mm x 117mm (HxWxD), 1/4 DIN
Primary Input Type:
Universal (TC, RTD, DC linear mA/mV)
Other Inputs:
2 x Digital, 1 x Remote setpoint
Output Type:
Relay, SSd, DC linear, Triac
Max. Number of Outputs:
9
Control Type:
PID, ON/OFF, Manual, Alarm, Profiling, Datalogging
Max. Number of Alarms:
5
Profile Programming:
64 programs using 225 total segments, Real time clock, 5 programmable event outputs
Power Supply:

100–240V AC 50–60Hz

20-48V AC 50/60 Hz

22-65V DC

Communications:
RS-485 serial (MODBUS® RTU), Ethernet (MODBUS TCP), Front USB port
Panel Sealing:
IP66 (IP65 with front USB port)
Certifications:
CE, UL, ULC
Software Tools:
BlueControl
The ProVU4 controller works in conjunction with Blue Control software. Functionality includes:
Fast Parameter Configuration
Clone Other Devices
Simulator for Process Testing
Remote Management for Increased Efficiency
Familiar Software Environment for Ease-of-Use
Please visit our software page to download BlueControl®.
Copyright © 2021 West Control Solutions