PMA Relay C Advanced Power Controller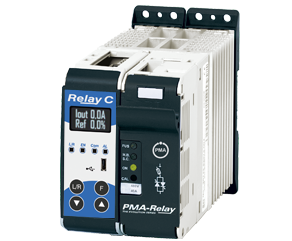 PMA Relay C
Advanced load management for 1, 2 or 3 phases up to 800A.
These devices include enhanced capability for a wide range of firing modes, improved performance, protection, monitoring and connectivity.
The selectable zero-cross, phase angle, delayed triggering, single cycle, burst fire, and half cycle modes provide control for variety of load types. These include NiChrome, Silicon Carbide, Tungsten and Molybdenum heating elements, mid and long wave infrared lamps, transformers and UV lamps.
The range supports connection to a user friendly commissioning tool for maximum visibility. 
Compact design
OLED text display
Input signal: SSR, analogue
Load 30 to 800A, up to 690V
Resistive, inductive loads and infrared lamps with short to long waveform
RS485 Modbus, Profibus, Profinet communications 
USB configuration port 
Zero crossing, phase angle or burst firing mode
Load monitoring and short-circuit alarm
Integrated data logging, energy totalizer
Internal fuses with easy access
CE, UL optional
Thyristor Power Controller - Relay C 1PH, 2PH, 3PH, up to 800A

Current:

30 to 800 A

Firing Mode

:

Zero Crossing, Burst Firing, Single Cycle, Phase Angle, Delayed Triggering

Input Signal:

DC Logic (SSR), 10k pot, comms, 0-10Vdc, 4-20mA

Communication:
Modbus
Feedback Type:
Current, External, Power Vxl, Voltage, Voltage Square
Tools:

PC Configuration Software

Options

:

Current Limit, Soft Start, Heater Break Alarm, Front Panel Interface
Copyright © 2021 West Control Solutions