RL400 Transmitter | Temperature Control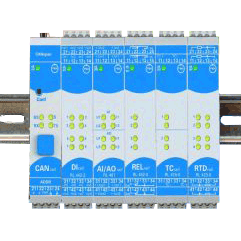 RL 400
UNIFLEX CI 45 transmitters are designed to give precise and cost-effective signal detection and processing. Every CI 45 has at least one universal input, one universal output and a relay.
Optionally, the transmitter can be fitted with an additional relay, with a second universal input and counter or frequency input. Optionally, the voltage output can also be used as frequency output. Galvanic isolation is provided between inputs and outputs as well as from the supply voltage and the communication interfaces.
CANopen
Ethernet with ModBus/ TCP-Protocol
PROFIBUS-DP with DPV1-Protocol
Analog / Digital I/O modules
Signal processing through individual linearization
Function modules replaceable during operation
Main attributes
Signal processing in output modules
Compact design, only 22,5 mm wide
Top-hat rail mounting (EN 50 022)
Plug-in screw terminals or spring-clamp connectors
Direct inter-module connections in top-hat rail
Centralized 24 VDC energization
Coupler handles up to 16 function modules
Expandable up to 62 modules by means of additional supply units
BlueControl ® -software with system Wizard and
centralized access to all function modules
The RL 400 controller works in conjunction with Blue Control software. Functionality includes:
Fast Parameter Configuration
Clone Other Devices
Simulator for Process Testing
Remote Management for Increased Efficiency
Familiar Software Environment for Ease-of-Use
Please visit our software  page to download BlueControl®.
Copyright © 2021 West Control Solutions