SG 45 Transmitter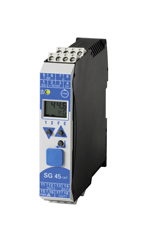 Transmitter - SG 45
The Uniflex SG 45 is a transmitter for processing and monitoring input signals form strain gauges, load cells, melt pressure sensors, and resistance bridges. It can be used in practically all industrial applications involving the precise measurement, indication, and processing of force, weight, or melt pressure. Moreover, it permits operation and parameter adjustment via keys in the front panel.
Alternatively, the Uniflex SG 45 can be operated, parametrized, and calibrated by means of a PC and a connection adapter. This also permits the adjusted parameters and configuration to be documented during operation. The simple zero setting function ensures high operating convenience.
The SG 45 is suitable for use in applications involving measurement, scaling, and isolation of electrical signals and is commonly used by the following industries:
Chemical industry
Food & beverage industries
Concrete
Asphalt
Building industry
Lime and clay
Compact design, only 22.5 mm (0.87") wide
Clips onto top-hat DIN rail
Plug-in screw terminals or spring-clamp connectors - simple connection
Dual-line LC display with additional display elements
Process values always in view
Convenient 3-key operation
Direct communication between mounted controllers, fieldbus connections via bus coupler
Measurement input with high signal resolution (23 bits)
Universal high-resolution output (14 Bit) as combined voltage/current output
Two relay outputs
Quick response; only 50 ms cycle time, i.e. also suitable for fast signals
Customer-specific linearization
Dead load compensation and tare adjustment
Min/max indicator ('slave pointer')
Preset for output value
Zero setting with adjustable limit value
| | | |
| --- | --- | --- |
| Brochure | Datasheet | Manual (Full) |
| | | |
| Operation notes | MODBUS description | Interface description Profibus DP |
| | | |
| Interface description CAN | | |
| | | |
Please visit our software  page to download the SG 45 software.
Copyright © 2021 West Control Solutions