TB 40-1 Temperature Limit Controller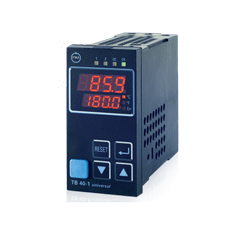 TB 40-1
The TB40-1 limit controller has been type tested to DIN standards. 
The TB40-1 can be used for heating and refrigeration processes. It is suitable for all thermocouple types and resistance type sensors. It is particularly designed for use in: 
All applications where an over or under temperature fault condition could present fire hazard or other hazard
Heating system in buildings to DIN EN 12828
Large hot-water boilers to DIN EN 12953-6
Thermal transfer plants with organic heat transfer media to DIN 4754
Oil-fired installations to DIN 4755
Applicable for heating and cooling applications
For all types of thermocouples and resistance transducers
BluePort Front interface and BlueControl Software
Maintenance manager and error list
Alarm reset via RESET-key
Alarm reset via digital
Type tested to EN 14597 and cULus
Product Category:
Limit Controller
Dimensions and size:
96mm x 48mm x 118mm (HxWxD), 1/8 DIN
Connectors:
Pins or screw terminals
Primary Input Type:
Universal (TC, RTD, DC linear mA/mV)
Output Type:
Relay
Max. Number of Outputs:
3
Control Type:
Temperature limiter
Power Supply:

100–240V AC 50–60Hz

20-48V AC 50/60 Hz

22-65V DC

Panel Sealing:
IP65 
Certifications:
CE, Type tested to EN 14597 (replaces DIN 3440), cULus
Software Tools:
BlueControl
TB 40-1 Temperature Limiter/Monitor Sales Update
As a result of updates to EN 14597(2009-1) the original TB 40-1 device can no longer be used as a temperature limiter, but only as a temperature monitor. Enhanced versions of the TB 40-1 are now available which can be used either as limiters (TB) or monitors (TW).
From January 2012 onwards, models with part number TB40-1x0-xxxxx / TB40-1x1-xxxxx are considered as temperature monitors.
The new models with part numbers TB40-1x2-xxxxx / TB40-1x3-xxxxx can be used either as limiters (TB) or monitors (TW).
Background and full details can be found in the TB 40-1 sales update here.
Please visit our software  page to download the TB 40-1 software.
Copyright © 2021 West Control Solutions