Obsolete CALogix Multi-loop Temp Controller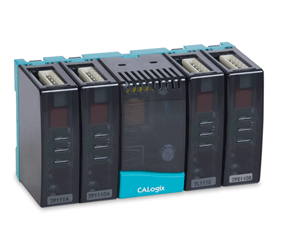 CALogix
CALogix is a modular system that consists of a DIN-rail mounted base unit and up to 4 control modules. PID and logic modules can be added to the base unit in any configuration ensuring the exact requirements of your application can be met. CALogix is sub panel mounted which means that CALogix can be easily integrated within a system that has a central user interface. This could be an operator panel or a PC running an OPC based SCADA system or your own custom software.
CALogix-sw is a software configuration tool that allows simple setting of the controllers. A graphical interface gives current process value and set-point data for each PID module. Structured drop down menus provide a simple platform for configuring all functions within the controller. Logic programming can be created to integrate with PID control. Timers, counters, Boolean and comparator function blocks are used to link inputs, outputs and PID for enhanced system control.
CALogix provides cost-effective multi-loop control in many applications including plastics machines, automated control systems, analytical systems, environmental chambers, ovens, kilns, furnaces, packaging equipment and many other temperature and process control applications.
This product is obsolete. Please refer to the MLC9000+ as an alternative multi loop temperature controller. 
DIN Rail Mount base unit
PID and Logic I/O control modules
Base-unit for up to 4 control modules
Flexibility to meet application requirements
Alarms
PID heat-cool
Network up to 31 base units
RS485 Modbus RTU communications
3 Year warranty
Product Category:
Multi-loop controller
Dimensions and size:
75mm x 140mm x 60mm (HxWxD)
Primary Input Type:

PID Modules: 4-8 inputs per base (1-2 per module, 4 modules per base); Universal (TC, RTD, DC linear mV), 4-20mA DC, 0-5V DC, 0-10V DC

Other Inputs:

Logic Modules: 12 inputs per base (3 per module, 4 modules per base); Field-selectable 5V DC, 10V DC, or 24V DC

Output Function:
Heat, Cool, Alarm, Programmer Event
Output Type:

PID Modules: 12 per base (3 per module, 4 modules per base); relay, SSd, 4-20mA DC, 0-5V DC, 0-10V DC

Logic Modules: 12 per base (3 per module, 4 modules per base); relay, SSd

Control Type:
PID, ON/OFF, Manual, Alarm, Profiling, Multi-loop, Logic functions
Power Supply:
18 - 30V DC, 8 watts
Communications:
RS-485 (MODBUS RTU) - 31 bases per network
Certifications:
UR, cUR
Software Tools:
CALgrafix – configuration and datalogging software
Copyright © 2021 West Control Solutions