Obsolete KS 94 Single Loop Temperature Controller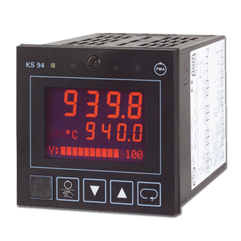 KS 94
The KS 94 single loop controller is configurable for ON/OFF control, PID control and motorised valve control. The output function can be configured for ?/Y/Off, position control, split-range control, and numerous 3-point combinations of switching/continuous control.
Control modes are set-point, set-point/cascade, and programmer, each with the possibility of setpoint offset. The effect of offset can be additive e.g. reduced standby set-point or as a factor e.g. O2 correction or split load. Offset can be triggered by an external contact, whereby the value is defined via an analog signal or via an adjustable parameter.
Feed-forward control is very useful to line out disturbances, e.g. with steam-generating plants.
For applications where several controllers act on a single actuator, the override control function is recommended.
See equivalent: KS 98-2
Ratio control
Mean value
Feed-forward control
Override control
Measurement value output and DAC®
Simple, menu-guided operation with plain-text displays
Universal version for switching/continuous output
PROFIBUS-DP, INTERBUS or RS 485 interface
Programmer with search function and real-time clock
Display of customer-specific messages
Spray-water proof front with protection type IP 65
Interface ports at front and rear
| | |
| --- | --- |
| Product Category: | Single Loop controller |
| Dimensions and size: | 96m x 96mm x 160mm (HxWxD), 1/4 DIN |
| Connectors: | Flat pin or screw terminals |
| Primary Input Type: | Universal (TC, RTD, DC linear mA/mV) |
| Other Inputs: | External setpoint, Ratio input, Three component input, Potentiometer input |
| Output Type: | Relay, Current/logic output |
| Max. Number of Outputs: | 11 |
| Scan Time: | 200 ms |
| Number of Programmer Segments: | 3 Programs x 20 Segments |
| Control Type: | ON/OFF, PID-2-point, 3-point and 3-point stepping and continuous control |
| Power Supply: | 24 VAC / DC, 90-250 VAC |
| Communications: | TTL, RS422 & RS485, Profibus-DP, Interbus |
| Panel Sealing: | IP65 |
| Certifications: | CE |
| Software Tools: | Engineering Tool ET/KS 94, Simulation Tool SIM/KS 94 |
Copyright © 2021 West Control Solutions