MAXVU Rail Temperature Controller / Transmitter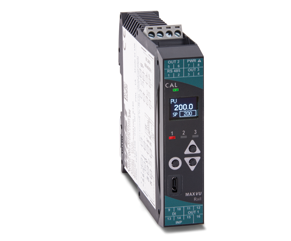 MAXVU Rail Temperature Controller / Transmitter
MAXVU Rail temperature and process controller is a behind panel DIN-rail mounted device that's easy to install and fast to setup with an easy to read OLED display.
MAXVU Rail provides an affordable solution where essential temperature controller is required, it offers a universal input and up to 3 outputs.
The unit also has a transmitter mode disabling control for temperature and process measurement applications.
DIN rail mounted
PID or ON/OFF control
Universal input
Up to 3 outputs
Digital input
RS485 communications option
Transmitter mode
Fast configuration
Clear OLED display
22.5mm module width
Product Category:
Temperature Controller with Transmitter mode
Dimensions and size:
107mm x 22.5mm x 123mm (HxWxD)
Input:
Thermocouple (J,K,C,R,S,T,B,L,N), RTD (3 Wire PT100),
DC Linear (0 to 20mA, 4 to 20mA, 0 to 50mV, 10 to 50mV, 0 to 5V, 1 to 5V, 0 to 10V, 2 to 10V.)
Output:
Relay, SSR, Linear DC
Number of Outputs:
2 or 3
Weight:
0.20kg excluding packaging
Temperature and RH:
0 to 55°C (-20 to 80°C storage), 20% to 95% RH non-condensing
Power Supply:
100 to 240V 50/60Hz +/- 10% (mains powered version)
24V DC/AC +10%/-15%, AC 50/60Hz (low voltage version)
Front Panel Protection:
IP20

Certifications

:
CE, UL & cUL
Compliance:
Complies with EN61326 (Susceptibility & Emissions)
Complies with EN61010-1
Pollution Degree 2, Installation Category II
Communications:
RS485 Modbus RTU communication option
CE Certificate
UL Listing 
MAXVU Rail CE Certificate

Complies with EN61326 (Susceptibility & Emissions) 




Complies with EN61010-1
| | | |
| --- | --- | --- |
| Name | Version | Description |
| MAXVU Configurator Software | 1.5.1.0 | This software is for PC configuration of the MAXVU & MAXVU Rail controllers |
Copyright © 2021 West Control Solutions