Obsolete DataVU 5 Recorder & Data Acquisition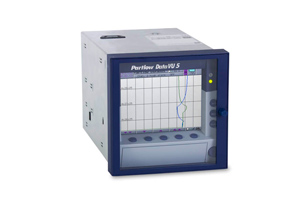 DataVU 5
The DataVU 5 paperless recorder is designed to provide a fast and easy set up through user friendly controls.
Set up is so simple that it can be carried out on the spot via the front panel without the need for a PC. Configuration is carried out using a combination of fixed keys and menu led soft keys. Three fixed keys allow the user to easily locate and return to the master control options.
Alternatively for those that prefer to use a PC to configure their recorder or for multiple recorders to be configured, the DataVU 5 can be set up remotely using a CompactFlash card or via communications. This is particularly time efficient when the same configuration profile needs to be set up on multiple devices.
See equivalent: DataVU 7
Reduces set up time with an intuitive, logical on screen menu.
Set up can be carried out on the spot via the front panel
Recorder can be configured by personnel of all skill levels using simplified by soft key functionality
Remote and multiple set up from a PC can be carried out using a RS232/485, Ethernet or CompactFlash card connection, preventing duplication of work and saving time.
Supports wide viewing angles with its 5" TFT high quality, colour display.
Data can be presented in multiple formats including; graphical display, numerical display, historical data display and an event list.
Ideal for use in many industrial environments.
Product Category:
Recorders and Data Acquisition
Recorder Type:
Paperless
Dimensions and size:
144mm x 144mm x 214mm (HxWxD)
Number of Internal Analog Channels:
6
Number of External Analog Channels:
0
Number of Digital Inputs:
4
Number of Relay Outputs:
3
Power Supply:

100–240V AC

20-53 AC/DC

Communications:
RS232/485 Modbus (option), Ethernet (option)
HMI:

Push button opertation with soft keys

5" TFT colour screen - 144mm x 144mm / 320 x 240 pixel screen

Certifications:

UL, cUL
Other Functions:

Counters/Integrators (6 channels)

Maths (6 channels)

Web Server (option)

Software Tools:
Set Up, Data Evaluation, Communication
Software Tools: Evaluation, Communication
Setup-Software für DataVU5
| | |
| --- | --- |
| Name | Beschreibung |
| PCA3000 + PCC | Communicatin and Evaluation software for DataVU5, DataVU7, KS3002, KS3012 |
Copyright © 2021 West Control Solutions